Hamptons: Home Away from Home
While Adriane spent her 4th of July weekend across the country, sipping wine and eating well- I too took trip, just a little closer to home!
I decided to be as cliché as possible this weekend by taking a trip most New Yorkers take on a long weekend. We packed up the little convertible, and headed out to the Hamptons to celebrate the 4th of July! Joe and his business partner have a room in a house-share right in the (amazing!) town of Bridgehampton.
To my surprise, the traffic out for the 4th of July was not too horrible and we made it door-to-door in just under 3 hours!
After touring the house and settling in, we quickly gathered ourselves and headed down the road to check out Wolffer Estate Vineyard. I had been dying to check out the Estate ever since Joe brought home THIS rosé a few weeks ago! It has become my favorite rosé. The only problem is, I drink it way too quickly!"]
Day 2 we learned the hard way that Hamptons beaches (at least in Bridgehampton) are super-duper hard to enjoy as non-residents! We packed up our car early Saturday morning and took a BEAUTIFUL drive to a small beach on Bridgehampton near Ocean Drive. Because we are non-residents we were not able to park and didn't want to risk a ticket- or worse- getting towed!
So we headed bak to the house and came up with Plan B - a trip to Montauk for the day (and night!) Again, we packed up the car with the intention to stay out in Montauk for the rest of the evening.
At the first stop of the day, we found ourselves at The Montauk Beach House. Such a fun scene inside this quaint (yet sleek) hotel. Here, we sipped on a few (eh- several) cocktails and watched party-goers pour in, eventually creating a full-blown pool party.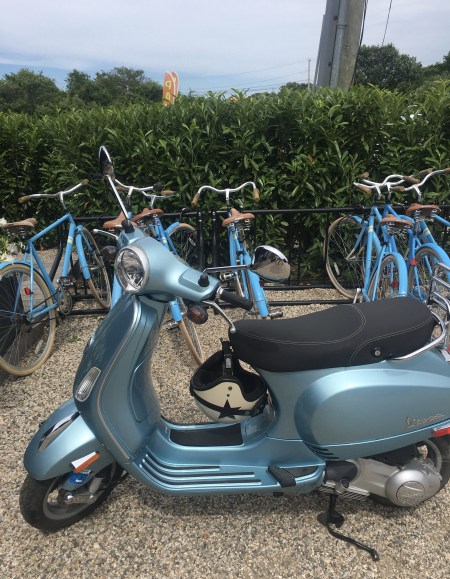 After The Montauk Beach House, we met up with friends and headed over to Navy Beach. I couldn't tell you what we drank (probably rosé), or what we ate, but I do remember this is where I saw the most beautiful sunset(s) of my life. Hands. Down.
The 4th of July, our last day on Long Island, we again packed up our little car and drove out to Monauk. We had made reservations to spend the whole day at Gurneys- a picture perfect oceanfront resort!
The skies were blue and the sun was hot. Joe and I opted to start the day with Pina Coladas- somewhat of a tradition for us. Anytime we go on vacation, we always have 2 Pina Coladas as our first drink(s)! A nice cold frozen Pina Colada just 'screams' vacation and really puts you in the mindset to unwind and relax. Not to mention, they are damn delicious. Tip: don't think about the calories.
After a long day on the beach, and the afternoon at the bar, we headed up to Scarpetta Beach, a restaurant at Gurney's overlooking the ocean. Not sure which was better- the food or the view?
We had to rush through dinner in order to make it to fireworks on the beach, but we succeeded and made it down just in time to see the very first firework light up the sky!
It was beautiful. I also realized this was my first 4th of July watching fireworks on a beach, with sand beneath my toes.
I'm glad we jam-packed so much into this Hamptons trip. Now, when we go back I'll have my favorite bars, restaurants, and places to watch sunsets (ahem - Navy Beach)!
Til' next time, Hamptons.
CK